Water ionizer Aschbach-01
With this continuous-flow ionizer, ionized water can be produced with 3 different stages of activity for basic water. The device is connected directly to the water tap, it is possible to obtain basic water directly from the water tap.
It is also possible to produce completely normal filtered water without ionization and acidic water.
The built-in filter removes chlorine, bacteria and heavy metals from the water - but ensures that the minerals are retained. This is a significant difference to reverse osmosis. Through the ionization process the minerals are brought into an ionized form, which makes them fully available for the organism. The ionized water produced with this device is suitable not only for cooking and drinking but also for basic baths.
Basic water:
PH of 7 to 9.5
Redox potential: from + 200mV to -350 * mV
Sour water:
PH of 7 to 5.5
Redox potential: from + 200mV to + 500 * mV
Particularities:
• The installation takes only a few minutes
• The yield is 30 to 50 liters per hour
• 3 strengths basic, 1 strength acidic and one strength filtered water adjustable
• Platinum coated titanium electrodes
• Computer control for consistent ionization quality
• Flexible, rotatable water outlet
• Flow control
• Automatic cleaning
• Filter change indicator
• Easy filter change in 2 minutes
You can combine this unit with a set of three additional filters: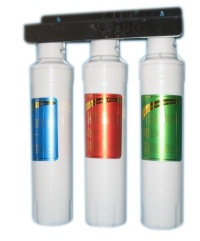 * Sediment filter removes dirt, rust, lime, sand particles and all other particles up to 5 microns from the water.
* Activated carbon filter with silver ions removes from the water odors and flavors, organic substances, chemicals and chorus. Silver ions inhibit bacteria in the water.
* UF filter ensures a complete elimination of all solids. This mechanism also ensures disinfection of the water. The pore size of the UF membranes with 10 nanometers is considerably smaller than the smallest diameter of the suspended substances (silt, Schlick, microorganisms). The filtrate is therefore always clear. Therefore, a UF filter can be used to perform a fine, safe cleaning and disinfecting of the water without the use of chemical disinfectants.
Accessories:
• Wall mounting
• Complete installation accessories for standard water faucets
• Operating instructions in German, English and Russian
• Silver-coated activated carbon filter, which pre-purifies the water (service life approx. 1 year).
Input voltage: AC 220V/50 Hz and for USA: AC 110V/60Hz
Power consumption : 120W
Weight: ca. 3,5 kg
Dimension: 280 x 180 x 90
-other specifications in the user manual
The achievable pH and redox values depend on the composition (mineralization) of the tap water.
Note: this information doesn't constitute a recommendation for the treatment of certain diseases. Our doctors and medical practitioners will be happy to make an informed medical advice.
Customers who bought this product bought the following products also
This pH/Redox multifunction measuring instrument is compact, reliable, s...
The waterproof pH tester is used to fast, accurate measurement of the pH...
More Products in this Categorie:
Customer viewed this item have also viewed: